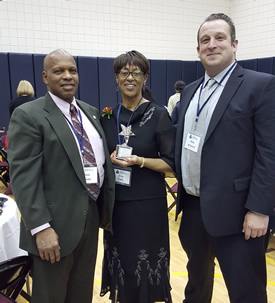 (L-R) Ross Jones, Greater Cleveland Volunteers, AARP Foundation Experience Corps Program Manager, Elva Fosh, Mike Milanich, Greater Cleveland Volunteers, AARP Foundation Experience Corps Program Coordinator.
MOST TREASURED VOLUNTEER AWARD
Greater Cleveland Volunteers announces that Elva Fosh, a resident of Middleburg Heights, was one of five volunteers in Cuyahoga County who received this prestigious award from the Center for Community Solutions.
Fosh was nominated for her outstanding efforts as a team leader in the national AARP Foundation Experience Corps literacy tutoring program. "She has made such a positive impact in her school that the Principal invited her to attend a diversity summit in the school and multiple in-service sessions for teachers and staff." Joy Banish, Greater Cleveland Volunteers Executive Director announced.
Greater Cleveland Volunteers rely on her for implementation of program needs, training, paperwork, communications and promotion of the literacy program.
Although a mother of four, grandmother of nine and great-grandmother of two, she has found time to volunteer. She explains, "I wanted to contribute in a meaningful way to the community and knew working with children would have the most impact."
AARP Foundation Experience Corps is a national literacy program for students in grades K-3. Currently the tutoring program is in the Cleveland Metropolitan and Euclid City School Districts. Greater Cleveland Volunteers enriches the community and individuals through volunteer service. For volunteering information in this or for other opportunities in Cuyahoga County call 216-391-9500 or
greaterclevelandvolunteers.org
.