Who Supports Us?
Greater Cleveland Volunteers receives funding from many sources, including government agencies, corporations, foundations, and individuals.
Naming and Dedication Opportunities
Our Naming & Dedication campaign has begun! We are offering a limited number of dedication opportunities for offices and other items in our new suite at 4415 Euclid Avenue.
This will be the first such campaign in our 41-year history – and we invite you to be a part of it. You can donate in honor or in memory of someone close to you, and you can craft a personal message on the dedication marker. The funds will support our programs and our Endowment Fund. Contact Alan Goldman 216-391-9500 x 113. Download Brochure


We are pleased to thank the following donors for their significant support


Major Support is Provided By
Corporation for National & Community Service
The Cleveland Foundation
United Way of Greater Cleveland
United States Department of Justice
Third Federal Foundation
City of Cleveland



Additional Support Comes From These Generous Funders
The Abington Foundation
Eva L. & Joseph M. Bruening Foundation
DBJ Foundation
Dollar General Literacy Foundation
Eaton Corporation
Forest City Enterprises
Frances White Gale
Giant Eagle Foundation
Harvard Business School Club of Northeastern Ohio
Himan Brown Charitable Trust
Hospice of the Western Reserve
John Reynolds
Kent H. Smith Charitable Trust
Lincoln Electric Foundation
The Lubrizol Foundation
The McGregor Foundation
The Reuter Foundation
RPM, Inc.
State of Ohio, Department of Aging
Lee & Maria Parks
The Stocker Foundation
Thomas H. White Foundation

As of October 29, 2013
» Click here to view our most recent Form 990 (Federal tax return). (18 MB)
» Click here to view our most recent Annual Report (2012).



Greater Cleveland Volunteers is a 501(c)3 non-profit organization and your gift is tax deductible.
Greater Cleveland Volunteers is a United Way Partner Agency.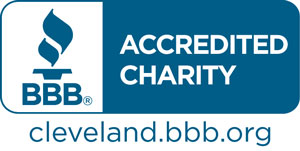 We are proud to be Accredited by Cleveland's Better Business Bureau.
Click here to lean more.