SPARKLE: The Magic of Volunteering

Greater Cleveland Volunteers held its annual benefit on Friday, October 21, 2016 at the Acacia Reservation Banquet Center. The evening sparkled from the beginning to the end.  Guests enjoyed appetizers, dinner, silent auction, a photo booth, jewelry pull and a triple diamonds raffle.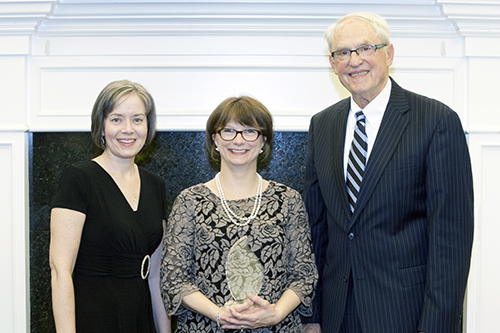 Medical Mutual of Ohio received the 2016 Community Partner award for their support of our effort to link adults with volunteer opportunities in the area. They also provide long-standing financial support and past recognition of our volunteers during its annual Outstanding Senior Volunteer Awards program. Additionally, we are grateful for the work of Ruth Peake, a Medical Mutual employee who serves on our Board of Directors.

(pictured L-R: Joy Banish, Executive Director, Greater Cleveland Volunteers, Ruth Peake, Medical Mutual of Ohio and Tom Barnard, Board President, Greater Cleveland Volunteers.)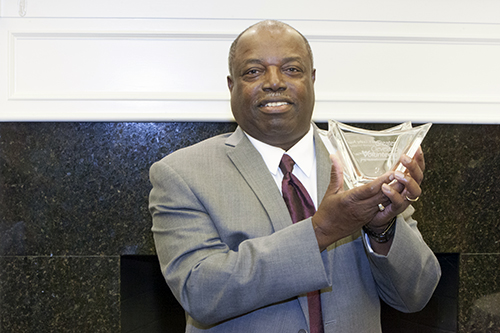 Receiving the David F. Leahy Award for Volunteer Excellence was Leroy Wilson Jr. He was nominated by Holden Forests & Gardens (formerly Cleveland Botanical Garden)

At the Cleveland Botanical Gardens, Leroy started as a greeter, then added volunteering: at special events, assisting with exhibits, providing tours and serving as an ambassador at off-site events. He also serves on their Volunteer Advisory Committee.

Leroy also volunteers as a Gold Coat Ambassador at the Cleveland Hopkins Airport Department of Port Control and Southeast Clergy Meals on Wheels program.
Greater Cleveland Volunteers would like to extend a special Thank You to our Sponsors:

AARP Foundation Experience Corps
Benesch
McGregor Foundation
Hospice of the Western Reserve
Lubrizol
Medical Mutual of Ohio
University Hospitals Cleveland Medical Center
---
Mayors Day of Recognition of National Service
Our agency was present today at the event. ‪ Cleveland hosts the largest number of national service participants in ‪Ohio. There are nearly 800 AmeriCorps and Senior Corps volunteers bringing in $5 million in resources and providing vital support throughout Cuyahoga County in a variety of service areas.
(walter at podium pic) Walter, our SeniorCorp RSVP volunteer, spoke about his efforts at area food pantries and mobile food distribution centers. "Feeding residents of Cleveland is a full-filling volunteer assignment. You meet interesting people who are most thankful for your assistance."
(bill hall, mayor, walter) Walter meets William Hall, Executive Director ServeOhio and Mayor Jackson.
Kirsten, Frei-Herrmann our Program Director, Walter, our volunteer and Joy Banish, our Executive Director.